June is Pride Month, which is a special time for celebrating the LGBTQ+ community, demonstrating the importance of equal rights and remembering LGBTQ+ milestones throughout history. Though some of the largest Pride Month events happen in New York City and other densely populated areas, there are celebrations and special Pride happenings that take place all over the country!
One of the most popular Pride Month events is a Pride march or parade. These high-energy events are full of Pride expression through music, dancing, fashion and more. Like any celebration outfit, however, a Pride Month look isn't complete without a great hairstyle to accompany it. This year, make sure to try a few of these fun hair looks inspired by Pride Month!
Rainbow Hair: Whether the occasion is a Pride picnic, party or parade, a colorful hairstyle that honors the Pride flag design is always appropriate. Though the colors of the rainbow represent the spectrum of diversity on the Pride flag itself, a classic rainbow of colors is associated with happiness, reflection and light, making rainbow hair totally fitting for Pride Month in more ways than one. Thankfully, there's a shade of professional hair color for every stripe on the Pride flag and then some.
Going all out with Pride-inspired rainbow hair might mean using demi-permanent professional color or permanent shades all over the head, but it can also be more subtle. Other options include rainbow highlights around the head or even subtle multicolor undertones that will last long past the parades and parties.
Faux Rainbow: Though bold rainbow hair is a fabulous, bold statement for Pride Month, it doesn't always have to involve the application of hair color. A temporary Pride-inspired rainbow hair look is great for those who want to change up their look throughout the month or don't want to commit to a long-term color. In this case, go for a hairspray with temporary color and get creative! Spray at the ends in a design or all over the head for bold color that washes right out.
Some other fun options include clip-in extensions in an array of colors. Wear them in the middle layers of the hair and let them peek out when the hair is down or weave them into braids or buns! To make colored extensions blend in with real hair, brush through the sections a few times after clipping or securing them and lock it all in with a few spritzes of professional hairspray.
Source: Roman Samborskyi/ Shutterstock.com
Quirky Buns: Pride celebrates diversity and embraces unique qualities, so why not convey those values through a few fun hairstyles this Pride Month? Sleek and structured buns are both fun and eclectic, but they also do a great job of keeping the hair away from the face. Plus, there's a Pride-inspired bun look for most hair lengths and types.
For those with short hair, a pair of mini twists right by the hairline never fails. Since shorter hair tends to fall out of high-set buns anyway, a couple of mini buns create the perfect half-up, half-down look. Just part the hair in the middle and divide the section of hair around the crown of the head into two sections before gathering them into buns. Thick hair may stay in the bun shape with just elastic or pins, but consider adding grip to thin or fine hair with a few texture hair products!
Those with longer hair can go for bigger, higher buns. Secure them on top of the head for a bold look that leaves lots of face space for colorful Pride makeup. To make buns bigger, use a teasing comb after combing the hair into two sections and securing them into pigtails with elastics atop the head. Tease from the middle to the ends of hair until the desired volume is reached.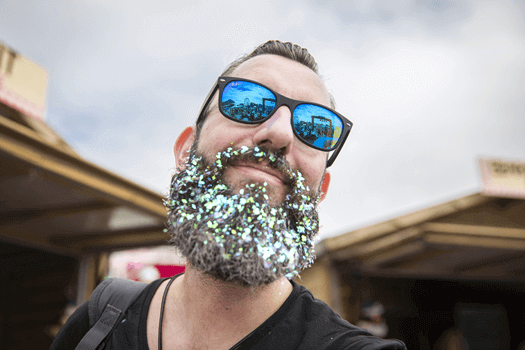 Source: Melanie Lemahieu / Shutterstock.com
Glitter Roots: Show off some sparkle and shine with roots that will glisten from daytime parades all the way through the night! Glitter roots are a great Pride-inspired hair option for everyone to try. To get this look, part the hair at the middle or side, making sure to create a straight, distinct line. Add glitter gel and secure with hairspray or carefully add loose glitter under a layer of hair gel or pomade. The fun doesn't stop there, either. Add glitter to a beard, mustache or eyebrows as well!
If glitter is too messy for you, opt for hair tinsel instead. This iconic Y2K look is making a resurgence thanks to trends seen on Instagram and TikTok. Also called "fairy hair", hair tinsel is super affordable and easy to apply. Just make sure that the tinsel you use is heat resistant, so it doesn't melt if you style with hot tools.
No matter the style or color, Pride-inspired hair is meant to be fun and celebratory. It's the perfect opportunity to do something different or try out a fun hair trend. When the festivities are over, make sure to use a quality shampoo, conditioner and other hair care products to remove previously applied products and keep the hair looking nice and healthy.