The mismatched earrings trend has been popular for a few years now, and it's not going away anytime soon. Instead, it's probably going to get bigger. A fun way to add a unique touch to an otherwise boring outfit, this style continues to grace the ears of A-list celebrities like Scarlett Johansson and Emma Watson. This look has gotten a lot of attention on fashion runways, too. 
If you want to try this look for yourself, the key is choosing earrings that complement each other but are mismatched enough to make it clear you didn't just accidentally put in two similar-looking earrings while getting ready. You want to look stylish and confident — not like you were in the dark while getting dressed for the day.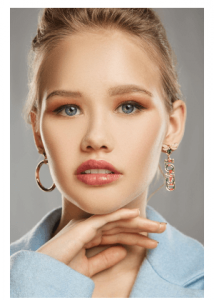 There are a few other considerations to keep in mind when mixing up your ear accessories. Before you decide which style to pair with your favorite nameplate hoop earrings or a bold diamond stud, check out these ways to pull off mismatched earrings like a true fashionista! 
What's the Deal with Mismatched Earrings? 
Over the last several years, the jewelry world has seen a huge increase in non-traditional trends. Things that were once fashion faux pas, like wearing mixed metals in the form of multiple colors of women's gold bracelets, have now become some of the hottest trends. Mismatched earrings go right along with east-to-west rings, non-diamond engagement rings and, of course, mixed metals. 
Wearing mismatched earrings is a bold move that forces you out of your comfort zone. When you do it right, the look exudes confidence and adds an extraordinary touch to any outfit. It's also an intriguing look that's sure to draw a lot of attention. Just be sure to mix and match the right way to ensure your accessories don't appear haphazard. Your earrings should coordinate with each other, not clash. Here are a few suggestions: 
Pair a Drop Earring with a Stud
If you are new to the mismatched earrings trend, pairing a drop earring with a stud is an easy way to experiment with this style. Try putting a simple metal or gemstone earring in one ear and a dramatic drop or chandelier earring in the other. Choose metals that are the same color to tie the two pieces together. With the right pieces, this look is perfect for the runway and formal events. 
Pro Tip: When trying to decide which drop earring to pair with a stud, think about how you'd wear them in multiple piercings in the same ear. If they look great together in one ear, they're perfect for splitting up and wearing in each ear, instead. 
Swap the Drop Earring for a Hoop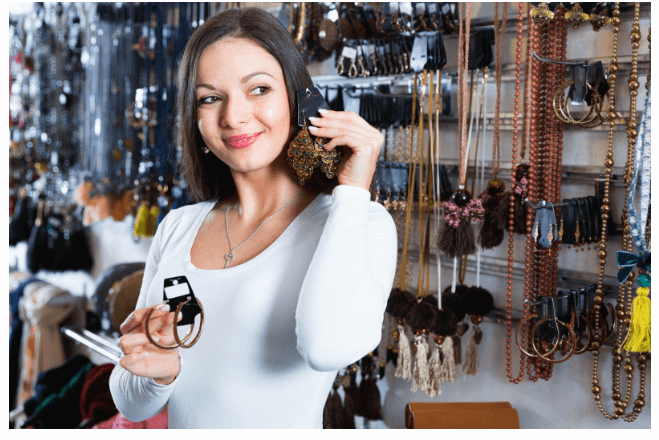 Using a hoop instead of a drop earring with your stud is an excellent way to create a unique look that's appropriate for laid-back occasions. Try a large, iced-out hoop when you're getting ready for a night out, or go with a small, delicate hoop for work or lunch with friends. 
Play with Sizes
Not quite comfortable with wearing drastically different earrings yet? No problem! Many styles share the same design but come in multiple sizes. Wearing a large earring in one ear and a smaller yet otherwise identical one in the other ear creates a much subtler look. Plus, when you buy two pairs of the same earrings in different sizes, you can choose to wear both large ones, both small ones or one large and one small. Or, you could give the second mismatched set to your BFF. 
Experiment with Various Colors and Metals
Choosing two earrings that are similar in color allows you to wear drastically different styles while still maintaining a cohesive look. Alternatively, wearing mismatched earrings in complementary colors creates contrast without clashing. When experimenting, try gemstones in various colors as well as different metal types. Whether you use color to unite two different earrings or create more contrast, it's a unique way to build one-of-a-kind looks that will turn heads. 
If you are looking for an easy way to rock this trend, find a pair of earrings that share a common theme to ensure a cohesive look. You could wear a moon in one ear and a star in the other, for example. Other popular themes include floral and leafy designs, geometric shapes, etc. Many styles are available in pre-made sets to make mixing and matching a breeze — even for complete newbies. 
Mix Styles
Mixing styles isn't right for every situation. When it is a suitable option, though, it's the perfect means of showing off an exceptional look. Try mixing traditional and hip-hop styles by wearing an elegant pearl stud in one ear and a large nameplate hoop in the other. Or wear a huggie earring featuring an adorable charm with a classic diamond stud. As long as there is something to tie the two pieces together, mixing styles is perfect for assembling bold looks. 
Consider the Rest of Your Clothing and Accessories
Regardless of the occasion or destination, you should always keep the rest of your outfit in mind when trying to decide which earrings to wear. Be especially mindful of your other jewelry. If you are wearing a bold men's gold plated chain, for example, it's best to stay away from delicate earrings. Mismatched earrings look best and have the most impact when worn with simple jewelry and clothing. 
Conclusion
Why wear boring jewelry when you can show off your signature style with mismatched earrings? Look through your jewelry box and all your earrings with missing mates and you'll likely be able to put together several looks without spending a single cent. If you can't find the perfect pair, it's time to do some shopping! Choose high-quality pieces that look and feel great and will withstand the test of time. After all, this trend isn't going anywhere anytime soon!